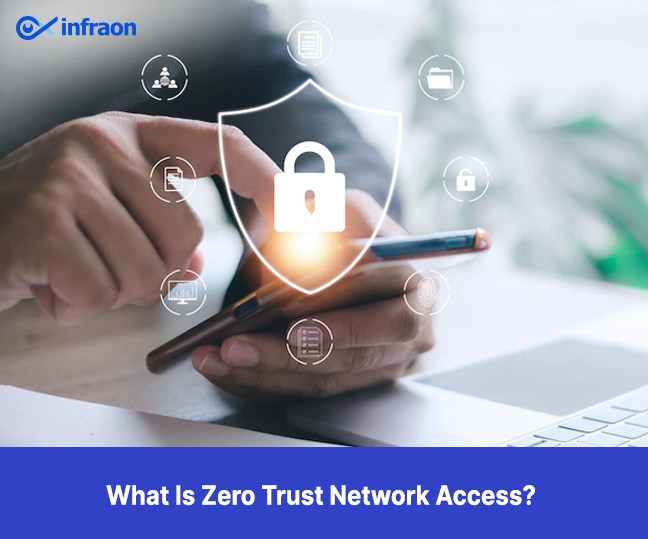 What Is Zero Trust Network Access?
Based on explicitly defined access control criteria, Zero Trust Network Access (ZTNA) is an IT security solution which offers safe remote access to an organization's applications, data and services. In contrast to virtual private networks (VPNs), ZTNA only allows access to particular services or applications. ZTNA solutions can aid in closing gaps in other secure remote access technologies and approaches as more users access resources remotely from their homes or other locations.
How Does ZTNA Work?
When ZTNA is used, access to specific applications or resources are granted only after the user has been authenticated to the ZTNA service. A secure, encrypted tunnel that adds an additional degree of security protection by hiding applications and services from IP addresses that could otherwise be visible is used by the ZTNA to grant the user access to the specific application after they have successfully authenticated it.
ZTNA behaves very much like a Software Defined Perimeter (SDP), relying on the same "dark cloud" mentality to prevent users from gaining visibility into other applications and services they do not have permission to access. This also provides protection against side attacks, as other services cannot be scanned even if an attacker has access to them.
Advantages of Zero Trust Security
If one's business does not use cloud-based systems, one may already have various private servers and networks in place. Therefore, if one wants to integrate another security module, one has to go through different steps.
However, that is not the case with a Zero Trust system. It's very easy to implement and integrate. Also, it also has a flexible base. It can complement almost anything and provide a transparent and seamless authentication process.
Enhance for Existing Security Staff
A Zero Trust approach also helps security teams work smarter. Centralized monitoring means one can generate and store reliable data in one place, enabling meaningful analysis and providing new insights that helps one's team maintain a safer environment. In a Zero Trust architecture, a unified event repository monitors and analyzes activity to reduce the "noise" thus allowing operations staff to focus on real threats.
During the pandemic, the rapid adoption of VPNs resulted in configuration errors and security flaws, opening the door to security breaches and creating workflow bottlenecks. An employee might experience performance issues when using a VPN to access required resources. With a zero trust framework, automation streamlines access to what users need without waiting for admin approval. Manual intervention is required only if the request is flagged as high risk.
Additionally, it provides the ability to change permissions, isolate critical systems and make the overall IT Infrastructure Management Services more scalable. This allows members of the organization to significantly increase their efficiency and resilience against cyberattacks.
How does one implement ZTNA?
There are two approaches to implementing ZTNA: endpoint-initiated and service-initiated. 
As the name suggests, in a Zero Trust endpoint-initiated network architecture, users initiate access to their applications from a device connected to the endpoint, similar to SDP. An agent installed on the device communicates with their ZTNA controller, which provides authentication and connects to the desired service.
In service-initiated ZTNA, connections are initiated by a broker between the application and the user. This requires a lightweight ZTNA connector in front of a business application either on-premises or on a cloud provider. Once an outbound connection from the requested application authenticates the user or another application, traffic flows through their ZTNA service provider, isolating the application from direct access through proxies. The advantage here is that no agents are required on the end user's device. This makes access more attractive for advisors and partners on unmanaged devices and their BYOD (Bring Your Own Device) devices.
Infraon Uptime Monitoring Software helps teams easily identify downtime with an intelligent alert system to send updates and push notifications to relevant teams via SMS, email, Slack and also get response time metrics, better monitor network and website performance.
Conclusion
It's time to refresh and rebuild one's security system in a unique way to prevent cyberattacks. Using traditional methods is not ideal in this regard. Instead, one should choose ZTNA to harden one's network environment.