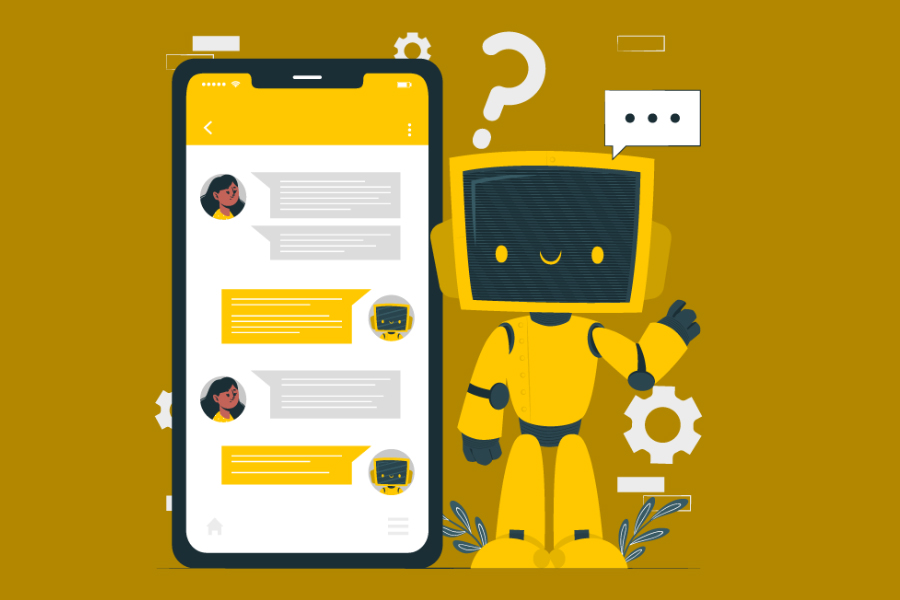 Using Chatbots for Personalized Customer Experiences
One of the biggest breakthroughs of AI is the use of Chatbots. The best part is you can use chatbots to engage your customers on so many levels. For instance, you could notify customers about your latest launch or services using Messenger bot. 
AI Chatbots are highly interactive and engaging. They are bots but can be used to humanize your brand, giving you a chance to give a unique voice to your brand. Most importantly, they make customer interactions neutral.
Best Chatbot Strategies For Better User Experience
The design of a chatbot should always align with your brand identity. This in turn will create a successful chatbot that is visually appealing, user-friendly, and at the same time consistent. This is why one must make sure to choose appropriate colors, fonts, and visual elements that match your brand. Along with that, a conversational user interface is also required.

For maximum customer engagement write chatbot scripts that engage and educate your audience. Your automation success depends on how well the script is written. You must understand the needs and preferences of your target audience to be able to craft a very appropriate script. You should also identify the most common questions or issues your target audience may have.  

Showing the value is another important strategy to follow. You may use a chatbot to gather customer emails, deliver after-hours support, or carry out product surveys. But that chatbot should be able to inform users at the very beginning how it can help them or solve their queries.
Benefits of Using Chatbots For Better User Experience
Increase sales
–
Chatbots can help increase sales for your business. Bots can successfully turn first-time website visitors into new leads and can even convert them into customers. 
Improves customer engagement
–
Chatbots can be used as virtual assistants for your clients. Bots can also help in the improvement of customer engagement. This is why your bots should provide personalized support to your customer.
Decrease bounce rate
–
Since chatbots can entertain and engage your audience, this makes people on your website stay for longer. The more customers stay on your page, the better the chance for decreased bounce rate. 
Future Trends In Chatbot Experiences
Chatbots are expected to play a vital role in the future and will only improve with time. Since 2022, businesses are making use of artificial intelligence to develop chatbots to deliver valuable insights and information, enhancing customer experience.
It is only natural to predict that in the coming years, Chatbots will help businesses with post-sales customer support and offer personalized information. The success of customer retention will very much depend on the right usage of chatbots.
How Ralecon Can Help In Business Growth With Chatbots?
You spend hours planning and writing the script for your chatbot, there's always something that might not work the way you expected it to. So, here comes the testing phase. This means you will need the assistance of an experienced team who can plan your chatbot design and implement it with the best AI practices for your business. Ralecon is known as the SEO specialist in Bangalore and can help you with AI technology for your business. 
To know how you can incorporate the benefits of chatbots into your business, get in touch with Ralecon.