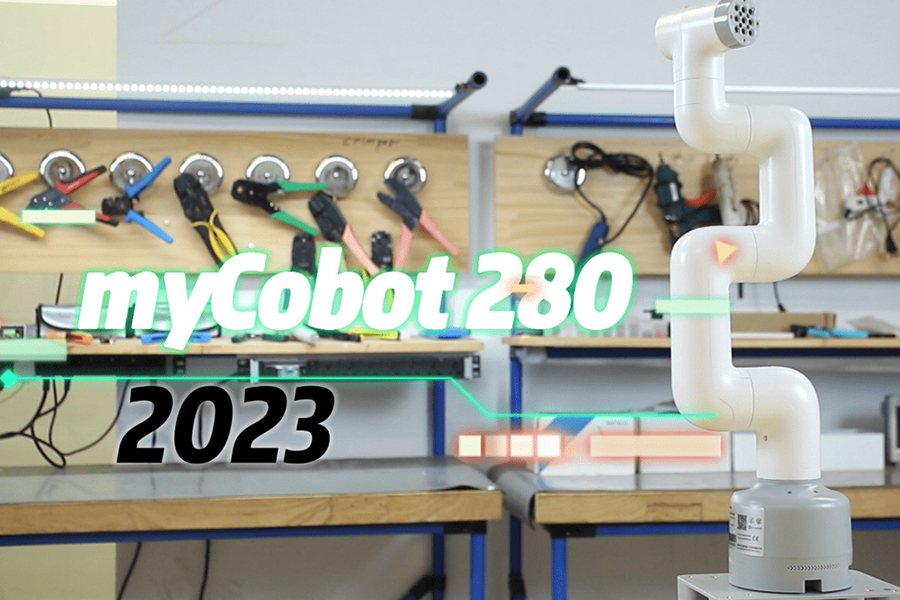 Upgrade and Explore myCobot 280 in 2023 with New and Improved Software Features!
In 2023, Elephant Robotics upgraded the myCobot into a new version: myCobot 2023, which is more user-friendly in software. myCobot 2023 supports users to use the mobile phone and gamepad to control the robotic arm and accessories, helping users to achieve remote wireless operation. Elephant Robotics has added algorithms to the robotic arm to prevent the arm from colliding with other objects when working to improve safety.
The robotic arm has rich interfaces, supporting mainstream programming languages and environments such as Python, C++, ROS1/2, making it very suitable for use in education, scientific research, and other fields.
The communication speed of myCobot 280 2023 has been improved by five times compared to the previous version and can now achieve 20ms. This improvement can increase the responsiveness of the robotic arm and make control more sensitive, reducing accidents caused by communication. The robot's movement is also faster, reducing the occurrence of accidents.
myCobot 280 2023 has added a self-interference collision function, which immediately stops the robot's motion when joint collision occurs, preventing damage caused by abnormal situations during robot operation and improving the robot's safety and reliability. This technology is based on user feedback and research expectations, and it has solved a problem in the past where the entire machine would execute power-off protection when forcing the robot joint to collide, causing trouble for many users. Currently, this technology is not open-source, so the algorithm and principles cannot be disclosed too much.
myCobot 280 2023 can also combine with myAGV, a SLAM radar vehicle controlled by a Raspberry Pi 4B, to form a compound robot that can learn and research logistics automation, navigation, and other functions. This function makes the robot more flexible and versatile in dealing with different scenarios and tasks, improving its comprehensive application ability.
In general, myCobot 280 2023 is a robotic arm with multiple new features and improvements, greatly enhancing its performance and application range. In addition to improving communication speed, supporting ROS2, and self-interference collision avoidance, we have also introduced the AI Kit 2023, combining machine vision with robotic arms to achieve industrial-like automation scenarios, making the application of robotic arms more extensive and diversified.